As of 2018, 75% of marketers claimed to be utilizing influencers in one form or another with the end goal of increased spending. You read that right...75%!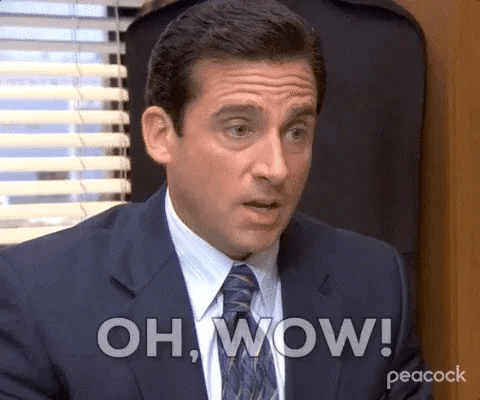 So, if you're not currently investing in influencer marketing, it might be time for your brand to start.
First, it's important to note that influencer and affiliate marketing are not synonymous; influencers are most often paid a flat fee by a brand in exchange for promotion, while affiliates are usually offered a predetermined revenue share of sales they helped bring in. However, the relationship-building process and purpose are almost the exact same, so for these strategies, you can consider them to be identical.
Influencer marketing is a type of social media marketing and works as a relationship building technique; influencers build relationships with their followers over a multitude of channels and platforms. This relationship in turn builds a sense of trust--most often a sense of trust in the products and services the influencers use and recommend. What the influencers promote, the followers purchase.
It's as simple as that... well almost.
There are different types of influencers, and it's important to know which your brand's audience is going to trust. Let's dive into the different types of influencers and the tools you can use to contact them in order to initiate and build an influencer or affiliate campaign.
Social Media Marketing: Influencers and Affiliates
Types of Influencers
Before you decide on the type of influencer based on follower count, you're going to first want to ensure that the influencers that you are choosing have a voice and audience that align with your brand. For example, if you want to increase sales for your baby clothing line, you don't want someone who isn't a parent promoting your product. Your brand's audience must be similar to your influencer's audience if you want the messaging to be as sincere and transparent as possible: 82% of followers agree that it's important for an influencer to disclose their personal use history with the product they're promoting.
Now, let's talk about the types of influencers based on their follower count.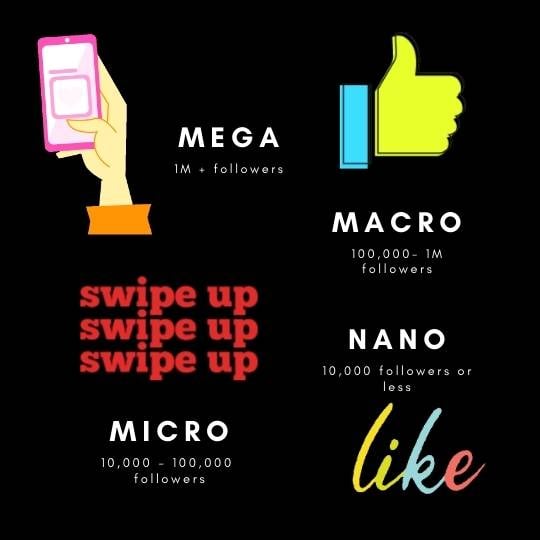 Mega
Mega influencers are the "A-list celebrities." These types of influencers could range from Kylie Jenner and all of the Bachelor Nation to Doug the Pug and athletes including Shawn Johnson East. These people tend to have around 1M+ followers. You'll want to consider utilizing mega influencers if you're trying to reach the masses, lack a specified target audience, and your budget is unlimited.
Macro
Macro influencers are most often a variety of lifestyle, fashion, and travel social media influencers and bloggers. Natalie Kennedy and Madison Messer would fall into this category, for example. These types of influencers usually have around 100,000 to 1M followers. So, if you have a particular audience in mind, but you're still looking to reach the masses, this type of influencer might be best for your brand.
Micro
Brands have especially started to utilize micro influencers, as their smaller fan base tends to relay a stronger bond and sense of trust. These influencers most often come across as more genuine and less like a sales pitch. Micro influencers tend to have around 10,000 to 100,000 followers, are often more affordable, and demonstrate heightened engagement rates. Use this influencer type if you're looking to increase leads and conversions among a specific audience. Most often in this case, you don't care about the masses seeing your product or service.
Nano
Nano influencers are those who consider themselves to be "up and coming influencers" with a follower count of 10,000 or less. These accounts are working toward influencer status and are often well known by a specific group of people. Some Instagram influencers who fall into this category include Brittany McMahon and The Hungry Hooker. Nano influencers are great to use to help small businesses grow; small businesses who want to increase conversations about their brand in their local area should consider utilizing this type of influencer.
Influencer Search Tools & Strategies
So, how do you find the email addresses or contact information for these influencers in order to send them a proposal and initiate your social media marketing campaign? Here are a few methods I have tried that have proved to be FREE and as effective as free comes.
Social Media Bios
An Influencer's social media bio is where you should start. Influencers want to be contacted to promote products, so most often they will put their info in their bio across various channels. Here's where you should look when it comes to the different platforms.
YouTube:
When it comes to YouTube, head to the influencer's profile and select About. Under the About section of the YouTube profile, you'll see something similar to the image below. Within Details, you'll most likely have to select View Email Address, and first verify that you're a human, not a robot, who is wanting access to this person's information.
Facebook:
For Facebook, if the influencer chooses to put their email address on their business page, again this information is going to fall under the About section. Under Additional Contact Info, if the influencer has decided to provide an email address, this is where you're going to find it. I just used an ice cream shop as an example here, but the process is the same for influencers and affiliates.
Instagram:
In my opinion, Instagram is the easiest when it comes to finding influencers' email addresses within their social media bios. Once you access their profile, the email address is most often going to fall in their bio section, as shown below.
However, if you can't find the email address this way, you have three other options. If the influencer has a website, head there and look for a Contact section. Second, the influencer might not put their email within their bio but instead have an email button that takes you directly to email initiation.
Finally, Linktree links have become especially popular within Instagram bios. If you can't find an email address anywhere in the Instagram bio, and there is a Linktree link, click there. This should take you to a variety of content the influencer wants to share including contact information or a website where you can potentially find their contact information.
LinkedIn:
LinkedIn is probably going to be your last ditch effort when it comes to looking for email addresses or contact information through social media bios.
Within the person's profile, you'll see a Contact Info button that looks like the image shown above. If the influencer has decided to include their contact information on LinkedIn, this is where you'll find it.
When it comes to LinkedIn, you also can utilize a free Chrome extension like Lusha to find contact info.
Lusha
When you visit someone's profile on LinkedIn (again this Chrome extension is LinkedIn-specific), your Lusha extension will pop up in the corner as shown below with the email addresses it could find for you.
This extension does use a credits system. In order to view an email address, you have to spend one credit. You get free credits when you download the extension, and if you need more for your search, the software will let you get more if you recommend the platform to someone or connect your inbox. So, there are methods to garner more free credits.
Hunter.io
Hunter is a Domain Search that lists all the people working in a company with their name and email address found on the web. With 100+ million email addresses indexed, effective search filters and scoring, it's Hunter's most powerful email-finding tool.
So, if you know of the school the person is currently attending or a company they work for, you can type it into this platform's search bar. I used Disney as an example here.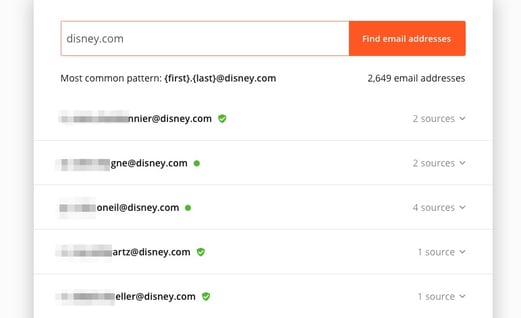 It will pull up the email address format said company or school uses for you! In this case, the most common email address pattern is first name.last name@disney.com.
With Hunter, you get 50 free searches and verifications per month but no premium features. If you end up loving this tool, you can start by purchasing the Hunter Starter pack for $49/month, 500 searches and verifications per month, Domain Search full results and exports, campaigns premium features, and priority support.
RocketReach
The last tool I have used to find influencers' email addresses is RocketReach, which finds email, phone, and social media for 450M+ professionals.
This software only allows a certain number of searches (for each email address an account is linked to), but it's helpful if you just have someone's first and last name.
You type in the influencer's name, and RocketReach produces an email list for you. Once you select Get Contact, your credits are reduced.
These are free resources I have used first-hand, and hopefully they will help you as you start to build out your influencer or affiliate marketing campaign. Of course, there are a ton of other free and costly apps out there, so look around before you start. If you're interested in agency assistance with affiliate or influencer marketing strategies, advertising, email marketing, or other digital marketing services, click below to schedule a free marketing consultation and learn more about the marketing packages we offer.