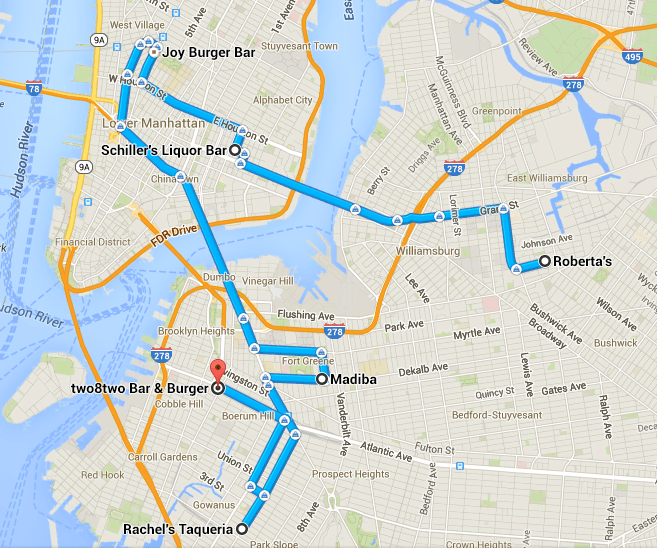 Last fall I had the pleasure of representing 12South Music at CMJ in New York City, alongside our founder, Michael Shoup. Obviously, I was very excited to attend all things CMJ. Not to mention the last time I was in New York I was trying to live there...unsuccessfully. Let's just say there was a serious redemption factor for me. I had a bone to pick with the Big Apple. Fast forward to last week...
So I'm doing my taxes and going over my expenses from 2013 because that's what "grown-ups" do, and I come across my week from CMJ. Item after item is an expense from a phenomenal restaurant that we ate at, several of which I spent fewer than $30. I never had my mouth start watering from looking at my bank account before...but there I was. I had to share my experience with the world, so I present to you the 6 BEST bar/restaurants I had the pleasure of indulging myself with during my week in New York City. Enjoy these fine NYC restaurants!
---
Schiller's Liquor Bar
Lower East Side | 131 Rivington St
New York, NY 10002 | (212) 260-4555Liters-O-Wine • The Mussels • The Bathroom...

Yes, boys and girls. In New York City, folks order wine by the liter and it's fan-FRICKIN-tastic! Schiller's is no different, offering a variety of vino by the 1/2 carafe and the full carafe, which is like a 40, but for wine. Though, 'Edward Carafe Hands' doesn't have the same ring to it. The mussels were just stupid, stupid good. I would've bathed in the sauce if I wasn't worried about embarrassing my boss in front of his friends. Then there's the bathroom situation...let's just say it's really, really confusing when you walk in. Don't take the look on her face personally.
Rachel's Taqueria
Park Slope | 408 5th Ave
Brooklyn, NY 11215 | (718) 788-1137$4 Margaritas • The Steak Tacos • A Guy Named Vincent...

I don't know about you, but I judge Mexican restaurants on two things: Steak Tacos and Margaritas. Well guess what, my little brussels sprouts? Rachel's has the best, I say THE BEST damned steak tacos I have ever had, EVER! Oh, and the Margaritas are 4$ damned dollars all the damned time to boot. Throw in prime people-watching locale, and a guy named Vincent from LA who develops apps and refers to you and your friends as, "These Guys From Nashville," even though one's not from Nashville, while wearing his newsie hat, and Rachel's has earned her way into my heart forever. Forever.
Joy Burger Bar
West Village | 361 6th Ave
New York, NY 10014 | (212) 414-9500Eats On The Cheap • The Burgers • Queen of Diamonds...

Traditionally I'd be pretty furious to walk in to a place with the word "Bar" in the title only to find out it's not a bar at all. Or at least, not that kind of bar. Then again, traditionally you can't find a top notch burger for under 5 dollars, and in New York City no less! Joy Burger Bar is dirt cheap, delicious, and a quick walk from NYU and everything the West Village has to offer. When you place your order they'll give you a greasy playing card (ex. Queen of Diamonds) to call out when you're order is ready. I guess it's cooler than taking your name, but it's really hard to make out what card they're saying, (especially if your a sheltered Ohio native like me) so keep your ears open!
Madiba Restaurant
Fort Greene | 195 Dekalb Ave
Brooklyn, NY 11205 | (718) 855-9190
Sports • Rum Cocktails • A Four Course Surprise...

Quite possibly the best accident of my life, outside of landing my current position with 12South Music, was wandering into the South African-themed, Madiba Restaurant during African Restaurant Week. Yeah, that's right. ARW fool, you don't know? Tweet @ me SON! - Sorry. During ARW, Madiba offers three, count em', THREE courses AND a no-nonsense rum cocktail for $27 A PERSON. Can I get an am-andella? You see what I did there? - A rowdy baseball crowd, delicious authentic South African cuisine, and some super random seating makes Madiba a must eat whenever I'm in town.
Roberta's
East Williamsburg, Bushwick | 261 Moore St
Brooklyn, NY 11206 | (718) 417-1118
Holy Patio • Brick Oven Pizza • The Hipsters From AirBnB...

Yes, I walked about 10 minutes to a venue from here and saw some things I cannot un-see. Yes, I stayed with 3 hippie chicks from AirBnB who lived across the street and accumulated moisture from wet towels in their bathroom. It was like walking face first into Swamp Thing's *****. Still worth it! Roberta's encompassed so many things I love about New York City under one roof. Fantastic pizza, interesting people, and on a Monday at 10pm I was ready to go all "Vodka Red-bull" on the night for no logical reason what-so-ever. It's no wonder Slick Willie ate here! (allegedly)
Two 8 Two
Cobble Hill, Boerum Hill | 282 Atlantic Ave
Brooklyn, NY 11201 | (718) 596-2282
Grilled Cheese • Bloodys • One HELL Of A View
Two 8 Two holds a special place in my heart for several reasons: 1.) It was the beginning of my love for Bloody Marys 2.) It reinforced my love for grilled cheeses with bacon -3.) It capped off an unbelievable week in New York City that I'll never forget. Shout out to our homies Clay and Meredith for not only letting us stay at their place, and being awesome, but for taking me out to eat here. Oh, and for taking me here...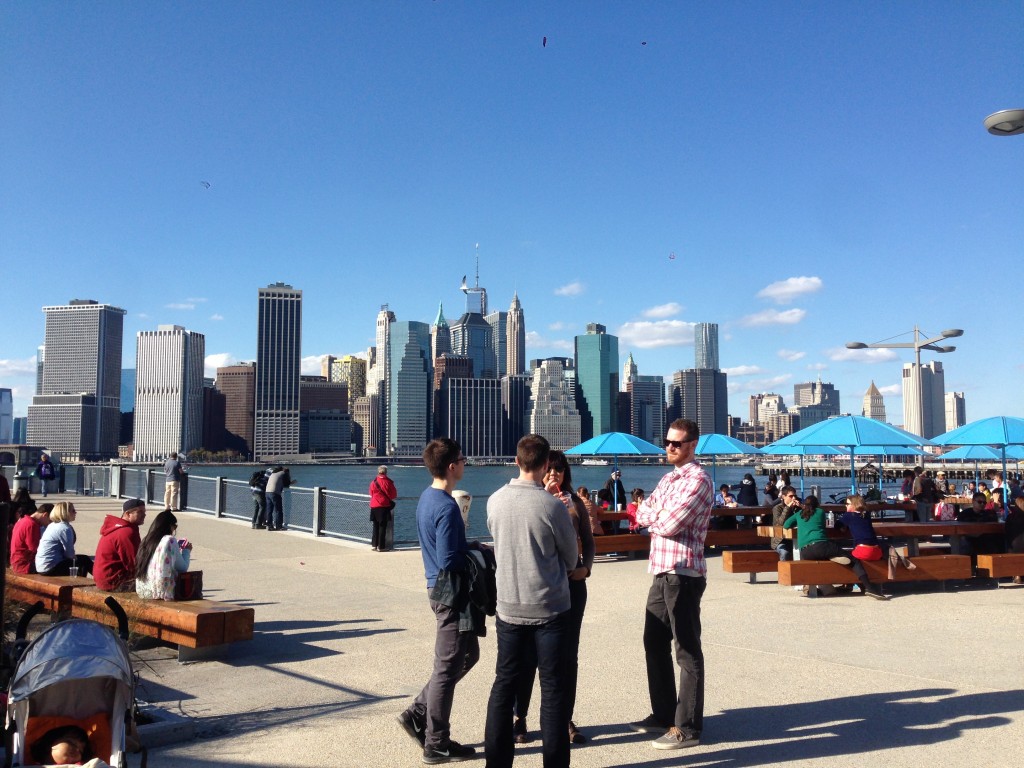 Salute!
Bobby Dirienzo
VP Digital Marketing, 12South Music