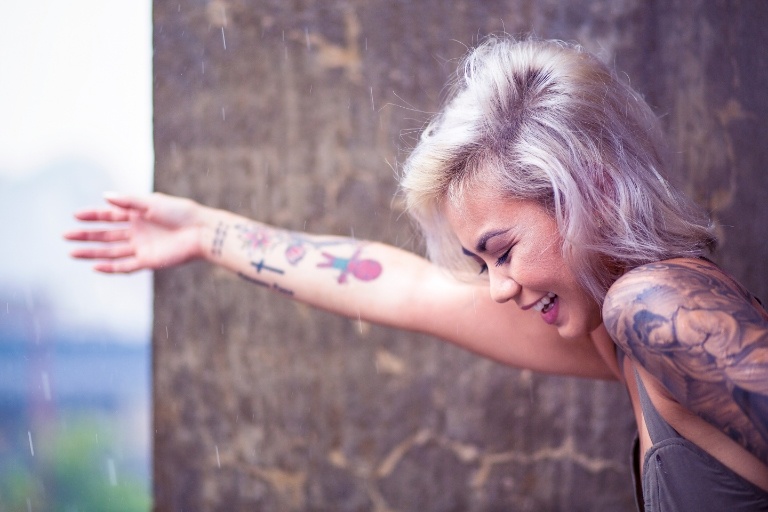 There's no doubt it's hard work to keep up with a long list of social networking sites, not to mention actually post something meaningful. But if you lack an authentic social media voice and fail to share interesting messages, you're not going to stand out in the crowd (not to mention, you'll probably sound robotic). "Hey Facebook, beepboopbeep. It's me again. Writing a boring message. Boopbeep." Here are some great ways to keep your audience engaged:
Ask questions.
Ask question to increase audience chatter. Try something like "What do you think about…" or "Did you know…" For example, if you have just revamped your company website, you can ask your followers about their thoughts on the new look. "Did you know…" questions can ask things like, "Did you know our company began in Jimmy's basement in 1985?" Or try something motivational and a bit silly: "Did you know the longest recorded flight of a chicken was 13 seconds? Never give up!" We're also loving these two articles from Clickz and Mavrck about 10 questions you can ask followers: 10 Questions to Ask Your Social Media Audience, 10 Most Engaging Questions to Ask Your Facebook Fans. They suggest everything from fill-in-the-blank posts to feedback about the company's performance.
Show some personality.
Don't be afraid to show your audience a little humor. This doesn't mean throwing out joke after joke—unless, of course, you're a comedian. But be sure to craft a message that lets your personality shine through. Imagine someone is speaking with you face-to-face; what little things would they notice? Every tweet and Facebook status can contain little interesting nuggets, no matter what the subject. Even the weather can be fun! As we gear up for summer, here are some funny hot-weather tweets for inspiration: 17 Funniest Tweets About the Eyeball-Melting Heat Wave.
50% chance of people caring about your homerun in the company softball game.

— Funny Or Die Weather (@FOD_Weather) August 17, 2013
Be appreciative.
Remember to thank followers for their support. This can be accomplished in a variety of ways: following them in return on Twitter, retweeting someone's content, replying to comments, sharing relevant information with your audience, and even sending a direct reply thanking someone for favoriting your tweet. A direct reply that begins with the recipient's Twitter handle also won't clutter up other people's feeds, as this Hootsuite article points out. On social media sites like LinkedIn, you could introduce connections to each other, endorse or recommend someone.
Don't act like a Negative Nancy.
This pertains more to a personal social media profile, rather than a business one—professional businesses should never just be throwing complaints around—but it's important nonetheless. After all, your personal profile is also a reflection of your business. If you're constantly venting on social media, people will probably stop following you. Facebook is one of the worst places for this. There's the vague, attention-seeking, "I can't believe this happened to me," which elicits comments such as, "OMG! What happened?" There's also the direct complaint, which details each moment of a person's bad day. On Twitter, there's the "every tweet is a complaint to a company." The list goes on and on. It's OK to complain every once in awhile when it's truly warranted, but as a general rule, keep your posts full of sunshine and daffodils.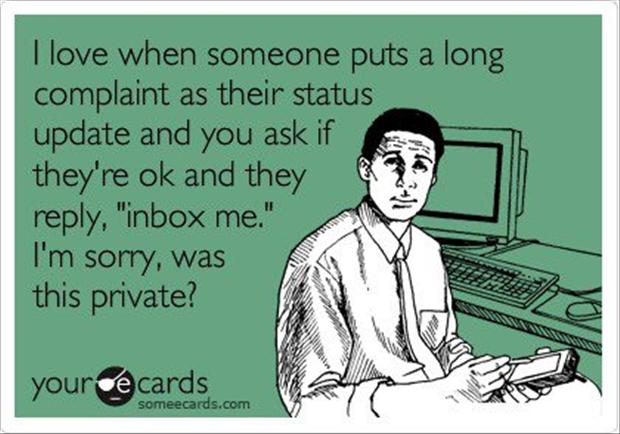 Don't hog the spotlight.
It's your profile, your name, your brand, your company… so shouldn't it be about you? Sure, but not all about you. If every message is filled with self-promotion, people may stop following you. Share a variety of content—that's not just your own—to keep your audience engaged and informed. Consider the 80/20 principle, as this article from Entrepreneur suggests: Post engaging, valuable content 80 percent of the time, and post about your products 20 percent of the time.